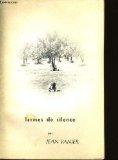 Jean Vanier's Tears of Silence (DLT, 1973) is the earliest book about L'Arche that I know, As an appendix he has a speech given at Church House in 1972, from which this is an extract.
This is the problem. We have created a society that rejects the weak. This is a terrible indictment of any society. It is a wonderful thing when you put your arms out in a welcoming attitude to a handicapped person; then something happens: his eyes begin to believe and his heart begins to dance and he begins in some way to become our teacher. . .
I begin to discover something: that this wounded person, a distorted face, a crippled hand, that the way the handicapped person looks at me, approaches me – all this does something to me, the wounded person calls me forth. And being called forth, I discover that I can bring him up some tiny little way.
The vocabulary has changed over forty years, but the message is clear. And although big subnormality hospitals are largely consigned to history, our society still rejects the weak, to the extent that parents will be put under tremendous pressure to abort a baby known to have Down's syndrome.
We need to return, not so much to the 2oth century roots of L'Arche, but to the 1st Century roots of L'Arche, the Joyful Good News we are sent to proclaim to all nations.
(Tears of Silence is on sale in French and English through Abe Books.)