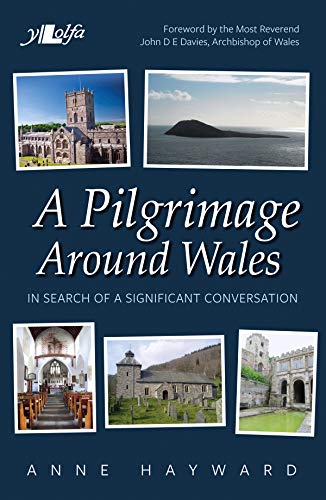 Before any planning for our walk, I read a book about pilgrimage. Anne Hayward's A Pilgrimage Around Wales is subtitled in search of a significant conversation.1 Mrs Hayward set herself to have a significant conversation each day of her walk. In his foreword the Archbishop of Wales points out that the significant conversation can be a silent exchange with the people who made the place holy. He recalls a visit to Saint Peter's in Rome, and being taken down to the niche holding the relics – beyond reasonable doubt those of the fisherman himself. 'The presence of the Apostle, the witness of the Apostle, the courage of the Apostle, the love of the Apostle for the Lord, and much, much more were all around in an unspoken conversation.'(p7)
Measuring the significance of a conversation is surely impossible. Significant to me, or to the Other? At the end of her three months' tramp, Mrs Hayward counted up more than 150 names of people she had such conversations with. That is not counting the conversations Archbishop Davies points us to, in the stones and windows of the churches she visited. (I wish she had identified some of the places, to let others find them.) She travelled alone, camping most nights; we will be in a group, with maybe 60 or 70 people walking anything from 100 metres to the full distance. A few people may camp out once or twice.
Tyndale the terrier will walk rather more than the rest of us. He may hold significant conversations with other dogs who leave messages for him, or who pick up his trail marks. We will hold conversations with each other, in words, in linked arms, or held hands, or a shared mint.
Mrs Hayward had conversations with bereaved people, worried mothers, campsite wardens, young hikers and churchwardens, among many others. We can expect significant conversations with the Lord that Peter loved, in song, in silence, in weariness, in landscape and seascape, in sky, tree, river and road. Even a 'thank you' to a bus driver may feel very significant at the end of a long walk!
She had but herself to consider when planning her walks, her rests, her meals, we must bear in mind the needs of all our walkers and riders in wheelchairs, buses, cars or trains. Different pilgrimages. Whether you want to walk around Wales or make for Rome or Canterbury, God speed! And any day's journey can be a pilgrimage, if you remember to pray, 'Stay with us, Lord.' Anne Hayward's book could help a would-be pilgrim to be clearer about the journey. A very human book, and a book for the armchair pilgrim as well as the footsore one. More about ours soon.
1Anne Hayward, A Pilgrimage Around Wales: in search of a significant conversation, Y Lolfa, Talybont, 2018.