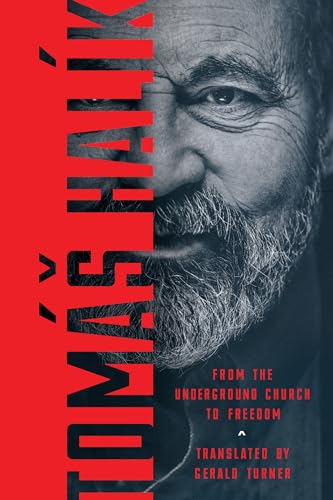 Tomáš Halík: From the Underground Church to Freedom, University of Notre Dame Press,Notre Dame, Indiana, 2019. Available through Waterstone's or online.
Tomáš Halík is a Czech Catholic priest who has lived under repressive Communism, even coming to the Faith in an officially atheist country, a process he unfolds for the reader in one of the chapters of this autobiography. An interest in history, including the career of the 'heretic' Jan Huss; reading about psychoanalysis as a schoolboy, and a growing awareness of politics and that life under an oppressive regime was not the inevitable fate of his country; all these had him asking questions, and finding the ready-made answers of the atheist regime lacking.
But he had 'absolutely no experience of the living church.' How true is that of many of our neighbours? It was during a solitary pilgrimage he made one holiday that he assented to belief in God; from there to attending a church with good music, gradually moving closer to the altar, week by week; thence to a church frequented by students where the pastor's homilies were challenging.
The journey to the priesthood had begun but had to continue underground, and his ordination was held behind closed doors in Erfurt, East Germany.
That sets the scene for a ministry conducted in secret but also in plain view as a psychotherapist and university teacher; often feeling the eye of the secret police upon him. Many of the generation of priests before him had been imprisoned; there were almost parallel churches; some priests ministering as best they might at the churches that were permitted to remain open, others, like Fr Halík, in closely guarded secrecy, until the regime collapsed like those in neighbouring countries.
It was time to unite the Catholic Church. The official church had been deprived of international links and scholarship; the priests were tired and 'the onset of freedom caught them very much unawares.' Thirty years have not healed all the wounds inflicted before 1990.
Openness to the universal Church, the re-establishment of church structures, the initial and ongoing formation of pastors and people, freedom from fear: these things take time, and hard work, and grace. At 70, Fr Halík feels he may not have much more time, but he has been the means of grace. This book will inspire the reader to believe in the action of the Holy Spirit. And perhaps nudge us to ask what we can share with those around us with 'absolutely no experience of the living church.'