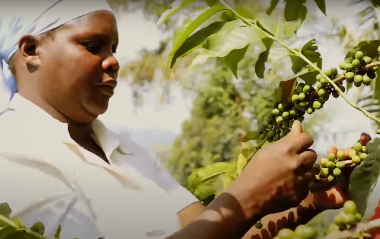 'My children and grandchildren will have a problem growing coffee if current generations don't take action against climate change.' Caroline Rono, pictured above on her Fairtrade coffee farm in Kenya
Caroline sent us this vital reminder on the very first day in the Choose The World You Want festival: to choose that fairer world we all want, we can all take action.And Caroline is leading the way. 
Like other Fairtrade farmers we've met this week, she's planted trees on her farm, embraced sustainable energy and taken up training on climate-friendly farming techniques.
Choosing Fairtrade is one way we can join her in taking action. Action that means more power and more income for farmers like Caroline to take on the huge challenges of climate change.In fact, every single event at the Choose The World You Want festival showcases ways we can take action to back the communities most threatened by climate change.
As week two begins, here's a sneak peak of a few events we're really looking forward to.
#1: The Unfair Climate Crisis, 6pm UK time Wednesday 2 March
Around the world it is those on low-incomes, people of colour, indigenous groups, and women feeling the worst effects of climate change.Our expert panel discuss how these deep-seated global injustices are linked, and how we can tackle them together to achieve a fairer future.
Fairtrade Africa's Kate Nkatha hosts a discussion between climate activist and musician Louis VI, 350.org's Namrata Chowdhary and the Pan African Climate Justice Alliance's Mithika Mwenda. 
JOIN THIS EVENT
#2: Tony's and Fairtrade: Choco Quiz and Tasting, 4pm UK time Friday 4 March
Try some top Fairtrade chocolate and test your choco knowledge with this quiz and tasting session, featuring cocoa experts from Tony's and Fairtrade. Sign up and treat yourself some tasty Tony's goodies to join the fun.
Host Angel Arutura, anti-racism educator, activist and content creator, joins Fairtrade cocoa producer and livelihood development officer Deborah Osei-Mensah, Tony's representative Nicola Matthews and Fairtrade Foundation's David Finlay.
JOIN THIS EVENT 
And from Fairtrade wine tasting sessions with Co-op to an evening of arts, music and storytelling with the Africaniwa tribe, there's much much more going on in the final week of the Choose The World You Want festival.  
Missed anything from week one? Not to worry, many events are now available to watch in our 'On Demand' section, including a screening of a film featuring Caroline and a question and answer session with her. 
More ways to get involved
Celebrate the campaigners taking action
Fairtrade campaigners have been pounding the streets and flying the flag for Fairtrade this week. Literally! 
Fairtrade London organised a guided walk around the city on Friday, tracing the links from the transatlantic slave trade to modern global trade inequalities.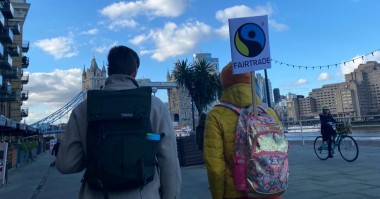 Meanwhile in Mossley some wonderfully colourful Fairtrade flags are flying to celebrate ten years of Fairtrade Town status.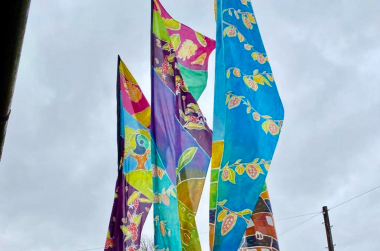 From a Fairtrade 'Top of the Shops' virtual tour up in Orkney, to a live screening of Fairtrade events in Jersey's public library, there's been far more creative campaigner action this week than we can celebrate in one email. But keep checking the #FairtradeFortnight and #ChooseTheWorldYouWant hashtags on social media to see the latest.  And if you haven't already, let us know about any ways you've been celebrating Fairtrade Fortnight. Use this quick form to send us the details and please send any photos through to hello@fairtrade.org.uk

SHARE YOUR FORTNIGHT ACTIVITES 
Visit our youth exhibition
With thousands of Fairtrade schools, universities and colleges across the UK, youth activism is always at the heart of Fairtrade Fortnight. And this year the Fairtrade Youth Exhibition gives young people a chance to find creative ways to call for climate justice.Find more on the Fairtrade Schools website, where you will find many more opportunities for young people to get involved in Fairtrade Fortnight.
Get your MP involved
We're asking MPs to deliver on the promises they made at COP26. Promises to fund just the type of brilliant grassroots climate-friendly farming initiatives Fairtrade farmers have been telling us about all week. Fairtrade Fortnight is the perfect time to ask your MP to back a fair deal for farmers living with the consequences of a climate crisis they did not cause. Use our quick form to get in touch with your representative.
WRITE TO YOUR MP 
And finally, grab those extra ethical bargains!
Discounts, competitions and special offers on lots of your Fairtrade favourites are coming thick and fast this Fairtrade Fortnight. Visit our website to scout out special offers from the likes of Traidcraft, Ben & Jerry's and LIDL.
Hope you've enjoyed the first week of the Choose The World You Want festival as much as we did. Have a restful weekend as we gear up for another seven days of celebrating and supporting the climate action of farmers and workers around the world.
Best wishes,
Stefan 
Campaigns Team, Fairtrade Foundation

We've recently updated our privacy notice. Please read it for up-to-date information about how we use and look after your personal information.
Manage your preferences | Unsubscribe
Fairtrade Foundation, 5.7 The Loom, 14 Gower's Walk, London, E1 8PYWe are a registered charity in England and Wales (no 1043886) and a company limited by guarantee registered in England (no 2733136).