Sisters have helped the Church in Africa flourish. They are teachers, doctors, nurses, community leaders and much more. Some have been killed for their faith.The Christian Church will always have martyrs, but not all of them will be known about, except very locally to their place of work. Gail DeGeorge, editor of the Global Sisters Report website, tells how GSR are committed to honouring these martyrs. She gives the example of two sisters from South Sudan, shot down a year ago. (Click the link above for the full story.)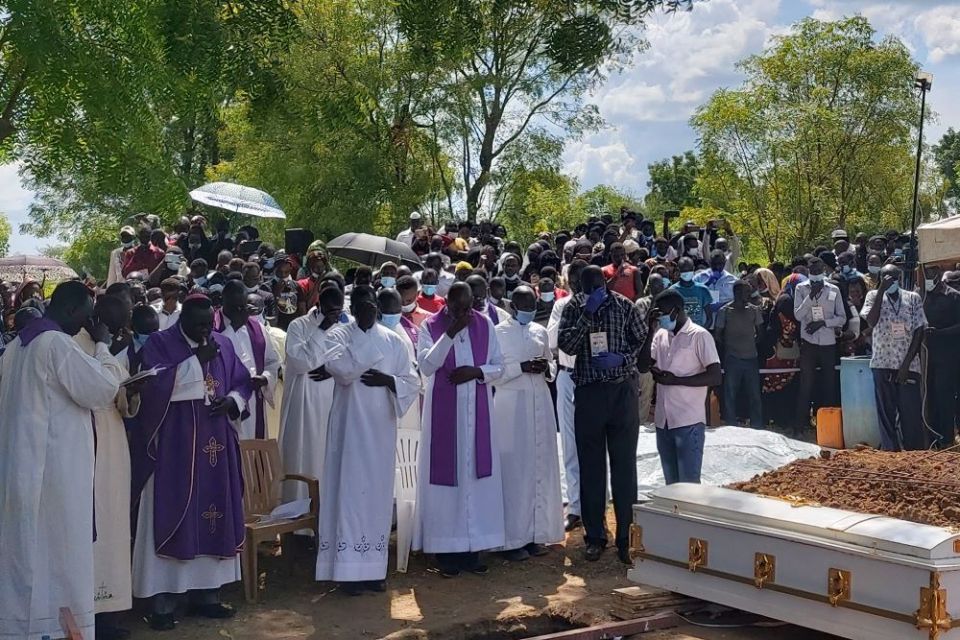 Members of the Archdiocese of Juba, South Sudan, attend the Aug. 20, 2021, burial of Srs. Mary Daniel Abut and Regina Roba, Sisters of the Sacred Heart who were killed when their bus was attacked Aug. 16. (Courtesy of Christy John)
The brutal killing of Srs. Mary Daniel Abut and Regina Luate Roba in South Sudan on Aug. 16, 2021, shook me and so many others. It was an act so blatantly evil it was hard to comprehend.
They had travelled with other Sisters of the Sacred Heart of Jesus to celebrate the 100th anniversary of Our Lady of the Assumption Parish in Loa, where the congregation was founded. As they travelled home the next day, their van was ambushed by armed men who threatened the passengers. Some of the sisters and the male passengers left the van, hoping to divert the assailants and spare other passengers. Abut and Roba were hunted down, shot and killed, along with three other passengers.
Abut was the head teacher of a primary school and Roba, a tutor and administrator at the Catholic Health Training Institute. Both lived out their faith by working to improve the lives of others in the young and troubled nation of South Sudan. No one has been arrested in their killings.