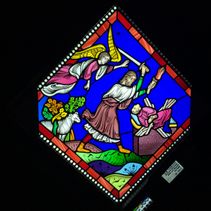 As I left the Crypt of Canterbury Cathedral today, I was drawn into the treasury room. Often there is one precious, ancient object to gaze upon. Today it was something old, something new.
The Church of the Incarnation in Dallas has commissioned from the Canterbury Cathedral glaziers, new windows taken from old – eight hundred years  old – windows in Canterbury. A selection is now on display including this panel of the sacrifice of Isaac, the angel risking his hand and wing to withstand the blow Abraham is about to deliver.
The new windows, made using mediaeval techniques, are vibrant and unmarked by the centuries of weather and pollution that have damaged the originals. Unlike the old monks of Canterbury, the ministers at Dallas will be able to bring every detail of the windows to the scrutiny of viewers using modern IT. The monks would have embraced IT, of course, as an aid to spreading the Good News – as Agnellus Mirror does in our own small way.
I shall return more than once before the windows are parcelled up and dispatched to Texas: they are on display here until 22 February, closing at 16.00 each day.
MMB.
Read and watch more at these links: