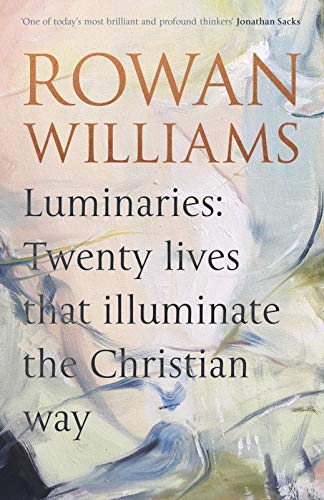 Luminaries: twenty lives that illuminate the Christian way.
by Rowan Williams
Published by SPCK 2, London 2019
ISBN 10: 0281082952
A review.
How do you choose just twenty shining saints for a little book like this? Dr Williams offers us four of his predecessors as Archbishop of Canterbury – Augustine, Anselm, Cranmer and Michael Ramsey – in this selection of sermons and other extracts.
Williams is especially compassionate regarding his first predecessor, the reluctant and blundering Augustine in whom fear and humility grind together painfully. He never wanted to come to Kent, he tried to turn back; he was 'almost endearingly nervous and  anxious' (p23), but he stuck at it and made a difference. 
Doctor Williams himself is remembered in Canterbury with great affection too: ad multos annos!
An interesting juxtaposition occurs because the subjects are listed in chronological order, William Tyndale, whom we met yesterday, rubs shoulders with Saint Teresa of Avila. a man and a woman from very different backgrounds, both determined to bring about church reform.
it is possible to draw out similarities between them. Here is Tyndale: 'Look, what thou owest to Christ, that thou owest to thy neighbour's need. To thy neighbour owest thou thy heart, thyself and al that thou hast and canst do. The love that springest out of Christ, excludeth  no man, neither putteth difference between one and another.' (p56-57)
Teresa was conscious that her Jewish ancestry put a difference between her and some others, but in the convent where she lived there were differences between sisters due to wealth and social standing of their families. This made her more and more uneasy: it was not true community life! True community life excluded no woman, but was based on friendship in shared poverty, which allowed Jesus to be present in friendship with each one. Friendship with Jesus is a big claim, but that friendship is to be cultivated in prayer; and Williams sketches out Teresa's experience of the prayer of friendship with Jesus. A chapter to read and re-read.
Every subject is interesting and human, so the whole book is to be read and re-read. And since it is that time of year, a book to buy for a friend, since it may be some time before you get it back if you lend it out. Not that it will be gathering dust and forgotten: it will be read and re-read.